The Chilling Adventures of Sabrina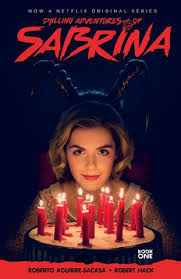 The Chilling Adventures of Sabrina is based on the nineties sitcom, Sabrina the Teenage Witch. This show is a reboot of the sitcom, however, it has a very dark twist to it.
Sabrina is not completely unlike any other teenager, she loves to hang out with her friends, Rosalind and Susie, and her boyfriend Harvey. However, unbeknownst to her friends, Sabrina is a witch. Her aunts Hilda Spellman and Zelda Spellman and her Cousin Ambrose Spellman are witches too. Sabrina is a young witch and must go through a traditional dark baptism and attend an academy for witches. But Sabrina doesn't want to leave Greendale, her hometown; She would rather stay with her friends and family because she is worried about getting picked on for being a mortal witch due to her mother being a human, unlike her wizard father. Sabrina would do anything to stay in Greendale.
I really love both this series and the original, but I would choose this reboot because it is enjoyable and completely immerses itself in the witchy feeling. This version is more focused on witchcraft and spells, but the original sitcom came out in the 90s when very few people would accept depth on the witchcraft level. I love the dark vibe it gives, and it pulls you in and can even scare its audience. I also really love the idea of witchcraft and spells being a really cool hobby. The original sitcom was not my cup of tea, but I really loved the cat, Salem, and he is the reason why I watched the show. While I am really sad that Salem doesn't talk in this version as a cat, he does turn into a demon and talk to her that way, which is really cool. If you really love dark stuff, I really recommend this show. I give it a solid 8/10.
Leave a Comment