Sparkling Peppermint Cookies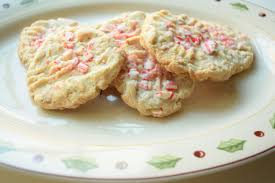 Ingredients:
¾ cup of sugar
½ Butter softened
1 Egg
½ teaspoon vanilla extract
⅛ teaspoon peppermint extract
1 ⅔ cups all-purpose flour
1 teaspoon cream tartar
½ teaspoon baking soda
½ teaspoon salt
½ cup crushed mini candy canes or peppermint candies
Directions:
 
1. Heat oven to 350͒ F. Line cookie sheets with parchment paper; set aside.
2. Combine 2/4 cup sugar, butter, egg, vanilla and peppermint flavoring in a bowl; beat at medium speed, scraping the bowl often, until creamy. Add flour, cream of tartar, baking soda and salt; beat at low speed until well mixed. Stir ¼ cup crushed candy into the dough.
3. Stir remaining ¼ cup crushed candy into ¼ cup sugar.
4. Shape dough into ¾-inch balls; roll in sugar mixture. Place 2 inches apart onto prepared cookie sheets.
5. Bake 8-10 minutes or until edges are lightly browned. Do not over bake. Cool 1 minute on cookie sheet; remove to a cooling rack. Cool completely.
Leave a Comment