Girls swim dominates state meet
Lubbock High School's girls swimming and diving strive to be champions every year under the coaching of Trey Hayes and Penny DiPomazio. This year, with the endless effort the girls put in and the support from the community, they were able to meet their goal. 
On the weekend of Feb. 15th, their trip to Austin, TX ended in a state championship for the 5A team. The team shacked up 186 points when Shaena McCloud, Emma Brady, Ellis Fox and Elizabeth Eppright placed 2nd in the 200-meter medley relay and 2nd in 400-meter free relay. 
Head swim coach, Trey Hayes, who was named the Texas Interscholastic Swimming Coaches Association (TISCA) state girls coach of the meet, was confident in the way he prepared the girls. "We were expecting to win," Hayes said. "I think that's what all champions do." 
Hayes had big hopes for his team along with with the support of the other LISD swim teams he coaches."I coach Coronado and Monterey and I think they were the biggest supporters," Hayes said. "They have a good rivalry, but they want each other to succeed." 
Hayes carries a lot of pride for the girls on the team, not only in their performances but their character as well. "Shaena is just a good leader because she does it all, right away," Hayes said. "She works hard everyday and she listens to the coaches. She may not like the coaches but she listens to them whether she wins or loses."
Hayes continued on about the girls who really showed themselves this season. "Emma Brady getting in the finals on the first day in the championship set us up in very good shape," Hayes added. "Then you have Peyton Props on the team; she's a winner for the group."
A newcomer to the Westerner girls swimming program has made a mark on the team, winning her first state championship as only a freshman. Ellis Fox finished 2nd in the 100-meter fly and 100-meter backstroke. "Having Ellis Fox on the team this year helped a lot," Hayes said. "She was really spectacular."
Hayes already has plans to establish a winning streak. "We've already got our schedule set in place, which we feel like really helped," Hayes said. "Getting the freshman that we've got coming in and the kids coming off the JV team to where they're comfortable a little quicker."
Hayes believes in order for him to improve as a coach, he needs to explore new ideas for the team. "In any sport, there are proven ways to do things," Hayes said, "but I've always been very innovative and listen to innovative ideas." 
According to Hayes, one of the best ways to improve as a team is to not get in your head about the little mistakes."Instead of getting wrapped up in one little thing, know it's going to be okay that it didn't go our way and move on."
Junior swimmer, Shaena McCloud, was a significant factor to Lubbock High's win by placing 4th in the 50-meter freestyle and 6th in the 100-meter freestyle. 
"I had a lot of faith in our team," McCloud said. "I knew that we were going to be able to do something great and show what we can really do." 
McCloud believed that being able to expose themselves to different situations and prepare themselves for almost anything that can happen contributed most to their championship win."We can always improve how we deal with situations that come up that we didn't exactly plan for." McCloud said. "If something doesn't go our way, we can't let that affect how we swim." 
Going into the meet, sophomore swimmer, Emma Brady, who finished 7th in 100-meter freestyle and 8th in 100-meter breaststroke, knew the team had the potential to win based off the hard work everyone has put in. 
"All you can control is your actions and how you lift up your teammates," Brady said. "You can't change the numbers or results, but the effort you put in." 
The lady Westerners swim team received support and encouragement from all over the community. This extended from coaches, parents, Lubbock High staff, other LISD athletic departments and more. "Our coaches are awesome. They're like our second parents." Brady said. "They're always a constant source of encouragement" 
Though according to Brady, the most encouraging of them all were the teams' swimmers and divers themselves."Our team captains this year, Laura Byers and Malia Wilkeswere amazing." Brady said. "They were just huge sources of light."
Brady believed that the culture Coach Hayes had built up contributed greatly to the girls' season. He taught the girls that teammates come before you and the importance of building each other up. 
"Every single one of those girls inspires me in a different way," Brady said. "The team we had this year was so awesome and you know every single girl made a difference."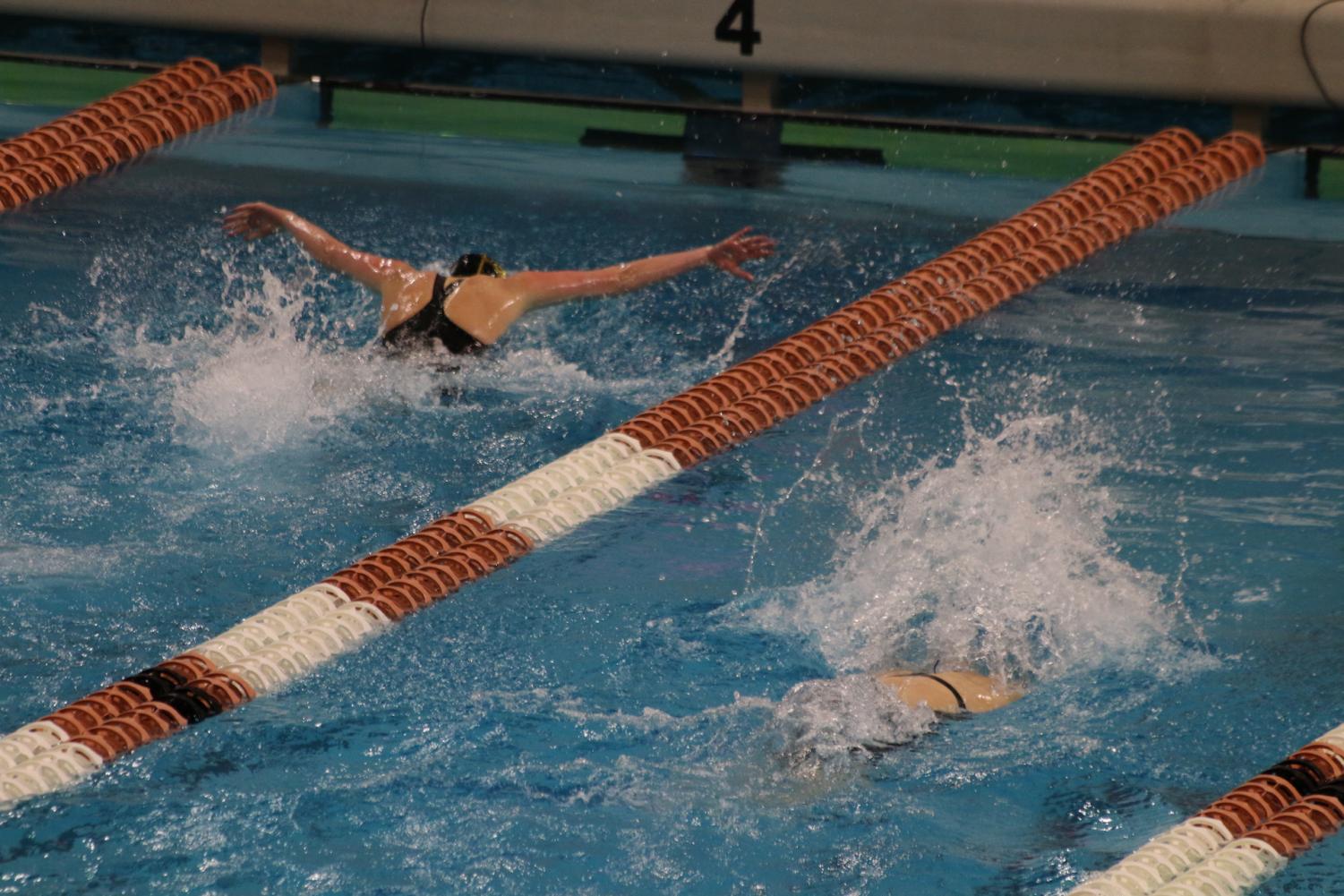 Leave a Comment