The bro hall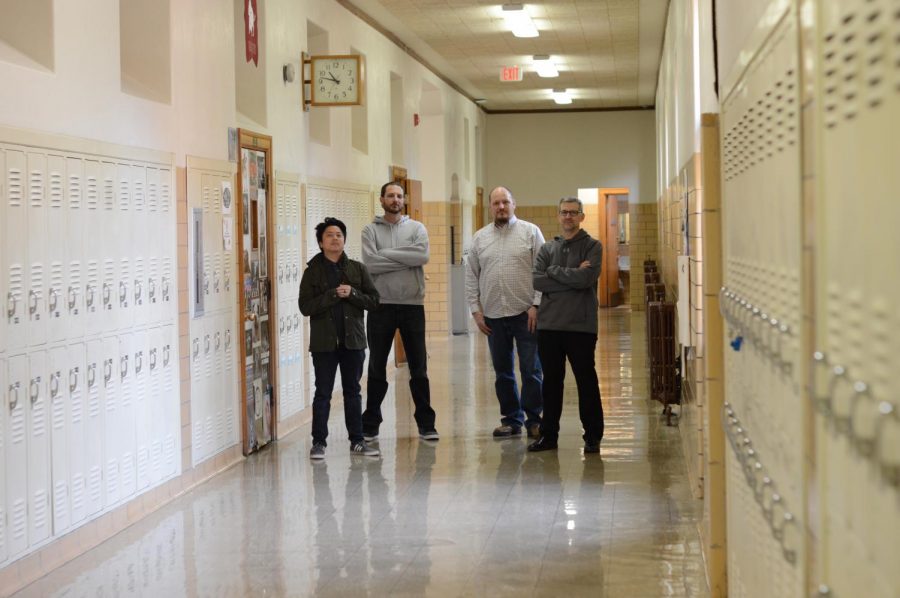 The "Bro Hall" is the name picked by the English teachers of the 2100 hall because of their very close-knit friendship. Initially, the hall consisted of Mr. Howell, Mr. Harris, and Mr. Vandon, but Coach Shires has recently joined the trio.
Mr.Vandon, who teaches English I and II, says he has a very strong passion for teaching and feels very fortunate to be able to teach with his friends. According to Vandon, it wasn't really a group thing to move to the second floor; he just wanted a room with windows. 
"It's been fun and it's very fulfilling to teach with my bro teachers," Vandon said. "I still just try to teach kids how to read and write [and] sometimes they're good at it-  sometimes they cry at night."
Coach Shires is an English II teacher and assistant girls' basketball coach. He moved from the first-floor history hall to the second floor with the others.  When the opportunity came up for Shires to move to the second floor with the rest of the English department, he was all for it. According to Shires, "teaching English I and II was fun, but IS was not- it was too much grading."
"It's better than it used to be in the history hall. There wasn't really anyone to talk to." Shires said. "It's definitely an honor to be the only hallway to be known as the bro hall." 
Mr. Harris, an English II IS and Academic teacher, moved upstairs for a bigger room, but he found much more than that. Due to their wives' friendships, Harris and Vandon are friends outside of school. 
"I went to LHS myself and I can't think of anywhere else I'd rather teach," Harris said. "We developed a great sense of community. Mr. Howell, in particular, is our fearless leader and keeps everyone in line."
According to the other bros, Mr. Howell, who teaches English II and IV, is the leader of the bro hall. He was originally the only bro in the hall, and as teachers left LHS, they were leaving the rooms around him open. 
"I began encouraging my other bro teachers to request the rooms around me; eventually creating The Bro Hall," Howell said. "The bro hall might not be forever, but the bros will."   
View Comments(1)